What a long strange year it's been. I have met and learned so many amazing things from so many amazing people. Hopefully, you have learned a thing or two from
Zenodotus.net
, as well. One way to thank people for their efforts is through the yearly Edublog Awards nominations. Hopefully, some of you have voted for
Zenodotus.net
at
http://edublogawards.com/nominations/
. If you haven't, there are still a few hours left to do so. Nominations close at 11:59 EST tonight! While I certainly don't expect to win, it is nice to at least get a nod. Posting about almost 365 Web 2.0 utilities this year (the project comes to a close December 31st - but the journey will not end) has truly been a labor of love and a learning process. Because I know how much work goes into attempting to be a valuable asset to to the EdTech community at large, I feel it's important to share my personal nominations with you. So, without further adieu, here are my nominations for the 2011 Edublog Awards: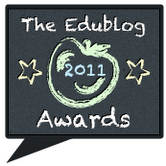 Best individual blog
-
http://scottweidig.com/
While
Scott Weidig
and I don't always see eye to eye (after all, he's a MAC and I'm a PC) :)
VanishingPoint
always makes me think and often re-think my views on education and technology. Additionally, I would not partake in many of the events and communities that I do, if not for Scott. You see, during a conversation at IETC just over four years ago, he convinced me to start presenting at Education Technology conferences and re-kindled my passion for teaching through providing professional development to teachers. So, I am indebted to him and proud to call him a friend!
Best individual tweeter
-
@AngelaMaiers
Angela Maiers
is by far my favorite person to follow on Twitter. The value she adds through her short bursts of inspiration cannot be put into words. Angela is always there with a boost of inspiration and information and is someone that everyone should be following on Twitter.
Best new blog
-
http://ryangallwitz.blogspot.com
The category is best new blog and while
Ryan Gallwitz
only has two posts so far at
The Learner
his thoughts are inspiring and enlightening. A principal and Technology Director rolled into one for East Knox High School located in Howard, Ohio. How he does it, I have no idea! I am so glad he has decided to make the leap of faith and start blogging. I look forward to the insightful posts that I know will be coming across my RSS feed!
Best ed tech / resource sharing blog
:
http://www.jenuinetech.com
/
There are so many good blogs in this category, it is extremely hard to choose. And since I can't choose my own, I would be remiss if I didn't nominate
Projects By Jen
curated by
Jen Wagner
. Jen in her very special way has made the world of Ed Tech a happier place. The innovative and creative projects she develops and graciously shares with the world should be a reminder to all of why we choose to dedicate our lives to education and technology.
Most influential blog post
:
What Type of Difference Do You Make?
Pernille Ripp
's, Blogging
Through the Fourth Dimension
is full of inspirational posts. One of my favorites from this year is
What Type of Difference Do You Make?
A very introspective view on the impact that all of us involved in education and technology have on the future of our students
Best twitter hashtag
-
#spedchat
My focus over the past five years has been on helping teachers at two special education satellite schools in my district integrate technology into the classroom. One of my favorite conversations to participate in on Twitter has been
#spedchat
. Hopefully, we will be able to organize the very first #Spedcamp very soon.
Best teacher blog
-
Forward Into History
I met
Shawn McKusker
at EdCamp Chicago last May and have been following his Blog
Forward Into History
ever since. While it is heavily focused on his work as a social studies teacher, Shawn's posts will add value to any teacher's curriculum
Best free web tool:
Twitter
If you know me at all, you know I am all about the
Twitter
. You can follow me as
JMGubbins
if you don't already.
Twitter
is my lifeline to the global world of Education and Technology. I learn something knew everyday thanks to
Twitter
being the cornerstone of my PLN.
Best educational use of audio / video / visual / podcast:
EdReach.us
I would be a fool if I did not nominate
EdReach.us
in this category. With many different podcasts, produced by some of the best educators I know, this network always has something valuable to offer
Best open PD / unconference / webinar series
-
EdCamp Chicago
While I give all credit for the success of edcamp Chicago to
Steve Dembo
and
Chad Lehman
, I was heavily involved in the planning process and I can tell you first hand how much work went into making this event a success. While I don't see EdCamps being the wave of the future in terms of Professional Development, they are a vital cog in the wheel. All educators should have an opportunity to participate in such and open minded free form event.
Best educational use of a social network
-
FETC Edmodo Network
This one was hard for me. Especially, since one of my favorite conferences is
ICE
right here in Illinois. And they run an absolutely fantastic Ning. But, I have to give the nod to the
FETC Network
thanks in great part to their partnering with
Edmodo
last year. The network is continuously active and is always chalked full of valuable resources and conversations.
So, there you have it, my nominations for the 2011 Edublog awards. Hopefully, you find the resources shared within this post to be valuable and life changing. Again, it's not the winnning of the award but the recognition of efforts that matters. It was very difficult to make my choices because I am indebted to so many of you fantastic people who make my world a brighter place every day. If you did not see your name or organization in this post know that I appreciate you and all you do every day for the cause!